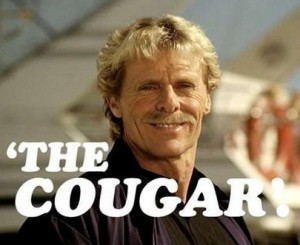 To get an idea of just who Barry "The Cougar" Dawson is you would have to combined Chuck Norris, The Dos Equis Man, MacGyver's Hair, the 70's and give him an Australian Accent. You would then have yourself the Australian Icon, lady's man and guru in Manliness that is The Cougar.
The Cougar first appeared on Australian TV way back in September 2006 with an advertising campaign for Fosters Australian Cougar dark rum and bourbon. The campaign consisted of a few nine second teasers and three TV adverts showing Barry "The Cougar" Dawson demonstrating the arts designed to help Men survive in any situation. From tying your shoelaces to fighting off a pack of giant wild tigers, a powerful set of Man-Skills deeply seeded in the unique philosophy;
"Don't try to get away with anything too big at first, and then try a bit harder and gradually you'll probably get somewhere."
Barry "The Cougar" Dawson is a Black Belt Master and an exponent of Man-Skills and in the following videos demonstrates 3 powerful techniques, the art of Speediness, Invisibleness and Mind Control.
The Art of Speediness
Speediness is important to keep up with modern society
The Art of Invisibleness
The Art of Mind Control
Using mind control The Cougar tames the wild dog
Barry "The Cougar" Dawson, the self proclaimed master of manliness may not be as smooth as he would have us believe! but it would be a safe bet that while no self respecting Aussie bloke might remember the product being spruiked here, let alone drinks Fosters, he sure as hell remembers The Cougar and the lessons he had to teach Man-kind.
TAGS: 70's, Advert, advertisement, advertising, aussie, australia, Australian, Barry Dawson, Black Belt, bourbon, chuck norris, dark rum, Dos Equis, fosters, funny, humor, invisibleness, lady's man, MacGyver, Man, Man-kind, Man-Skills, Manliness, Master, mind control, speediness, The Cougar, The Dos Equis Man, Video