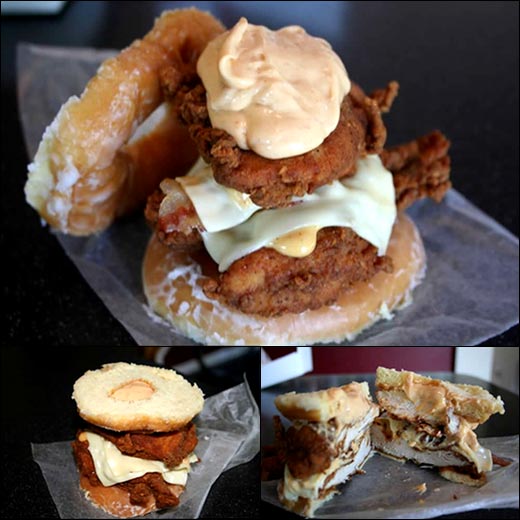 There is a little rivalry here in the OMC headquarters between us guys and not wanting to be outdone by one of Tom's posts from earlier this week about the "KFC Double Down" I have been scouring the Internet to go that one better.
… -ahem- Drum Roll Please…
Gentlemen (& possibly one or two ladies) May I present for your judgment on who has the "Fast Food More Likely to Kill You Than Fill You",
The Kentucky Fried Chicken + Krispy Kreme Double Down!!!! (suck it Tom)
How to build your trip to the hospital:
Start with a half Krispy Kreme glazed doughnut
Spread onto that some Colonel's Sauce
Place a fried chicken breast lovingly atop of that
Some more Colonel's Sauce (think of it as the glue that holds your heart down while the fat kicks the shit out of it)
A cheese slice
Bacon
Another cheese slice
Your second fried chicken breast
Even more Colonel's Sauce
And to top it off the other half doughtnut.
Now for those of you who would like to meet the Mighty Reaper you can go one EVEN FURTHER and follow these additional steps
Dip your KFC+KK DD in chocolate
Batter & Deep fry it
Dip it in chocolate once more
Roll it in sprinkles and I think we are there.
We tried doing this & are now morning our good friend Pedro, I guess you will never get to be President now buddy, Peace.
If dear reader you are brave enough to build one of these and eat it We Want You! Post your action shots below (or link to) or go the one up and better my "Fast Food More Likely to Kill You Than Fill You" with action shots and description, you have to build it to win it and the Man Card is on me, already have your Man Card, I'll throw you a T-Shirt (I can do that right Tom? Screw it, its on the internet now its done).
TAGS: double down, Fast Food More Likely to Kill You Than Fill You, fat, hospital, Kentucky Fried Chicken, KFC, krispy kreme, The KFC + KK Double Down