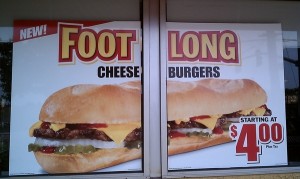 A few months ago people were shocked when KFC introduced the "Double Down". For those of you not familiar with the "Double Down" its a sandwich..err…rather a heart attack waiting to happen. It consists of two boneless chicken breasts (original recipe or grilled), two slices of bacon, and two slices of cheese. Again, for those of you not familiar with the double down you might think "wow that sounds yummy" but realize this…those two chicken patties work as the buns.
Not to be outdone is the Southern California based Carl's Jr. once considered the innovators of the heart attack inducing deliciousness know as the "Six Dollar Burgers". The biggest and baddest of course being the GUACAMOLE BACON SIX DOLLAR BURGER – which comes in at a staggering 1040 calories and 70 grams of fat! This beast of a hamburger comes with Guacamole, Two Strips of Bacon, Two Slices of Melted Pepperjack Cheese, Lettuce, Two Slices of Tomato, Red Onions, and Santa Fe Sauce. The Guacamole Six Dollar Burger does come with bread based buns though.
After the release of KFC's Double Down many in the industry felt nobody could top KFC's crazy ass sandwich. That was until this week when Carl's Jr's restaurants in Santa Ana, CA began testing "The Footlong Cheeseburger". Starting at $4.00 for the plain version (a deluxe version costs $4.50 and comes with all the fixings of lettuce, tomato, and onions). This massive burger comes wrapped much like a submarine sandwich you get from your local sub shop. It doesn't even fit into the bags, value meals consisting of your choice of side (fries, criss-cut fries, onion rings, or fried zucchini) and drink (soda or Hand Scooped Ice Cream shake) start at a reported $6.50 for the regular or $7.50 for the deluxe. I for one hope that this rolls out nationwide because I do enjoy myself a manly sandwich, and I am sure most of you do as well.
TAGS: and onions). This massive, burgers, Carl's Jr, crazy ass food creations, Crazy Sandwich Wars, deluxe version, double down, Fast Food More Likely to Kill You Than Fill You, food, Footlong Cheeseburger, grilled, grub, GUACAMOLE BACON SIX DOLLAR BURGER, KFC, manly cuisine, massive burger, original recipe, tomato