Coffee is big business all around the world, but going to your local Starbucks or 7-11 for coffee sometimes as a guy just doesn't cut it. At the outrageous prices of coffee, we should get a little more than just a 12 oz cup of morning brew. Well Robert Martinez has some good news for you. He opened "Your Coffee Cups" in the San Francisco Bay Area city of Fremont, CA.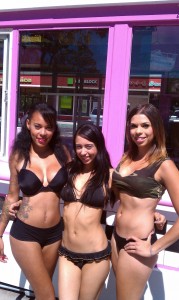 Your Coffee Cups is not your average coffee spot either, because unlike the prudish and concealed women at Starbucks Your Coffee Cups has beautiful baristas willing to show off a little skin while serving you your coffee. These young ladies are not nude in any way just scantily clad, and it will stay that way. Martinez, a former contractor and plumber by trade came up with the bikini coffee shop idea with his silent partner Irene Mann to help put his son's through college.
Martinez drives to the shop from his Castro Valley, CA home every weekday before 5:30 a.m. to brew the first cup of coffee before retreating to his nearby truck where he spends most of the day with an eye on the shop. "Sometimes I send people through the shop to ask the girls to flash for a bigger tip." referring to other similar shops problems of customers exposing themselves to the girls. "If they are caught doing anything of the sort its an instant termination." says Martinez.
P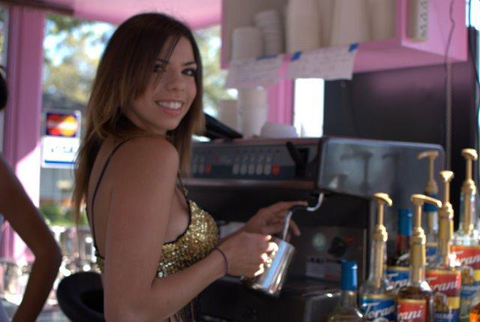 erhaps the most endearing quality about this shop is how much Martinez cares for these young ladies. "I tell them that you are more than a pretty face, your brain will get you farther in life." Although when I asked him if he would be happy his daughter works here he gave a very honest answer "I only have sons, so…I honestly don't know how I would feel." rest assured that Martinez treats these young ladies with the up most respect and I could clearly tell he care about these girls very much. He has cameras installed all around the shop to keep an eye on not only the girls but the customers too.
Your Coffee Cups has doubled the profits of the previous business in that same location. in less than a month of being open for business. Martinez hopes to open 2-3 more shops in the next few years, setting his sights on San Jose next. So if you find yourself in the San Francisco Bay Area any time soon be sure to make that trip to Fremont where the coffee is hot (or iced) and the ladies serving it are even hotter.
TAGS: Bikinis, coffee, Epic Win, hot girls, Martinez, Robert Martinez, Starbucks, Your Coffee Cups