G4's Attack of the Show has had many co-host changes over the years as people have come and gone, that is except for long time host and Official Man Card holder Kevin Pereira. When AOTS' first female co-host Sarah Lane departed in 2006 after marrying another former AOTS host Brendan Moran a worldwide search began to fill that co-host position. In April of 2006 a relative unknown by the name of Olivia Munn was hired to replace the vacancy left by Lane. Since 2006, Munn grew in popularity, especially with the geek crowd (who also are the demographic that AOTS caters to).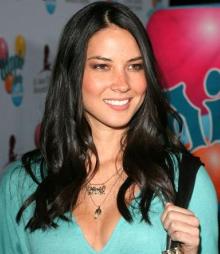 Everything was good until Ms. Munn started growing in popularity and began to forget the people that got her that popularity in the first place. Fast forward to late spring-early summer of 2010 and Olivia stopped appearing on AOTS regularly (the show just would say "Olivia is out today, please welcome). When Olivia did return to the show it was always the same "Ive been so busy, but still love you." story.
After a while even AOTS stopped mentioning Olivia Munn and started rotating certain co-hosts throughout the week. Namely Ms. Alison Haislip, who started as the host of "The Feed" and segment host but has turned out to be one hell of a co-host in her own right. Alison is quite the bad-ass in her own right and didn't rely on her looks (although she is absolutely gorgeous) to make an impact. Alison knows her shit and proves it on a regular basis, from driving cars to shooting them with 50 caliber guns to even eating a "pooped salad". Alison has won over every single fan of AOTS, and is in my humble opinion the front runner and most deserving of the job that Olivia Munn has obviously abandoned.
Another qualified candidate is the equally beautiful and smart Morgan Webb, who like Kevin Pereira is one of three G4 staff members still around from the "Tech TV" days (the third is Webb's X-Play co-host Adam Sessler). Webb has really come into her own as the Wednesday host (cleverly dubbed Webbsday by Pereira) even creating the character of "Tiny Morgan" who is a tiny southern accented version of Morgan Webb. Like Alison Haislip, Morgan Webb has excellent knowledge of the show, and its fan base not to mention incredible chemistry with Kevin Pereira.

There have been others who have stepped in to fill the void left by Olivia Munn (Jessica Chobot, Tiffany Smith, Carrie Keagan, Nicole DaBoub, and Candice Bailey to name a few), but of those ladies none are more deserving than either Alison or Morgan for a possible full time co-cost position.

Members of the internet/geek community even turned against Olivia Munn with a Facebook page titled "Attack of the Show Needs a permanent Co-Host, Munn is Done" and an accompanying Twitter feed titled Team Haislip, which Alison Haislip is actually a follower. Alison even tweeted a response to the rumor that she wouldn't consider hosting full time "that rumor is the cake! (aka-A LIE) I'd LOVE to host full time!". So what say you fans of AOTS? Who would you like to see as the full time co-host of AOTS? place your pick in the comments section below.

TAGS: Adam Sessler, Alison Haislip, aots, attack of the show, Candice Bailey, Carrie Keegan, Co-host, Facebook, g4, host, Jessica Chobot, kevin pereira, Morgan Webb, Nicole DeBoub, olivia munn, Salad pooping, tech tv, Tiffany Smith, twitter, X-Play

//end post div ?>