Donuts are often considered the perfect food. So how do you make perfection better? Simple let Jordan Zweigoron of Psycho Donuts get a hold of them. Because under Jordan's manly hands things like bacon, cereal, pretzels, and whatever you can think of as epic deliciousness will be added to Psycho Donuts.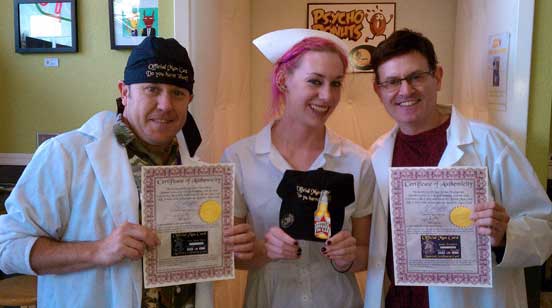 Psycho Donuts was founded because donut shops were kinda of boring and Jordan wanted to create a cool place to hang out and make donuts awesome once again. The first Psycho Donuts opened in Campbell, California and in the summer of 2010 they opened a second shop two blocks from San Jose State University.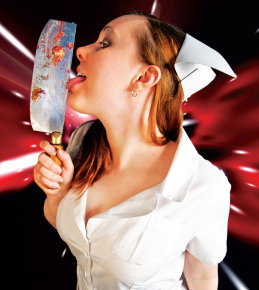 On walking in to a store there are two things that are hard to miss, the decor, local artwork adorns the walls (and is all for sale), and the Psycho Nurses (the beautiful ladies that serve the donuts). While I was deciding what awesome donut to order the Psycho Nurses offered me bubble wrap to pop until I had made my decision.
Jordan then offered me what would turn out to be the single most epic donut I have ever eaten in my whole life. It is called the Hamburger donut and on the outside looks exactly like a hamburger bun complete with sesame seeds. Inside is raspberry filling, honey butter, and wait for it…wait for it…BACON! Yes, you read that right fucking bacon! I will admit I was a tad intimidated at first because I have never thought about bacon and donuts being friendly. I was proven wrong by that epic concoction of awesome.
Jordan eventually wants to take Psycho Donuts nationwide and trust me the sooner the better because these are donuts the way God intended them to be, Awesome. OfficialManCard.com is so impressed with Jordan's Donuts we are working with Jordan and the Psycho Donuts team to create a Manly donut. In the meantime if you find yourself in San Jose, or Campbell California we dare you to attempt the OfficialManCard.com Psycho Donut challenge, Psycho Donuts have a pizza, and they only make one a day but if you can finish that pizza in less than 5 minutes you will receive an OfficialManCard.com Armageddon Pack. If you have the guts (ba-dum-tish) to take the challenge don't forget to take some pictures or video and send it to us here at OfficialManCard.com so we can see how you went.
TAGS: Armageddon Pack, Bacon, California, Campbell, cereal, challenge, donuts, Dylan Syrett, food, food that will kill you, grub, Hamburger donut, heart attack but worth it, honey butter, Jordan Zweigoron, Man Chow, Manliest, Manly, manly donuts, manly grub, Pizza, pretzels, Psycho Donuts, Psycho Nurses, raspberry filling, San Jose, San Jose State University