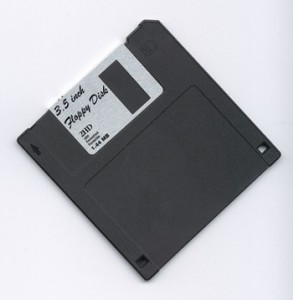 Junk mail it's the scourge of the inbox trying to sell you everything from Rolex's to Viagra. I guess the thinking here is that the Viagra gives you somewhere to wear all the Rolex's when your writs are full, oh and "Junk" mail in regard to Viagra, Ha! comedy gold.
Where was I, oh yes while sifting through the 60 or so emails in my inbox this morning I almost over looked one as junk when reading the title "Bid Farewell to Your Floppy" it was only when i glanced at the sender that I realized it was a legitimate email from a friend. According to the email and a bit of hunting around online the humble 3.5″ floppy disk with its capacity of 1.44MB will no longer be made by Sony, the last major 3.5″ disk manufacturer with the announcement that they plan to cease production in Japan early next year.
12 million 3.5″ disks were sold in Japan by Sony last year, the total data which could be stored on them wouldn't fill one side of a Blu-ray disc.
"Due to dwindling demand, Sony discontinued European production of 3.5 inch floppy disks in September 2009. The last European sale of a floppy disk took place in March 2010," said a spokesman for Sony in Britain.
Official Man Card, owners of a stack of 3.5's that include windows 3.11 and the original "Sim City" that was able to run off of just one 3.5″ disk, we bid farewell to the 3.5″ floppy, even though it wasn't.
TAGS: 3.5", comedy gold, floppy, floppy disk, Junk, Junk mail, Rolex, Sim City, Sony, Viagra, windows 3.11