Alright, listen up! I've been put to task to review movies that I feel all men must see. I'm the perfect guy for the job, why? Because I'm a man!
Now, here is how I'm gonna be running things: I'll be doing my reviews in blocks. So, for about a month, I'll focus on a specific genre, reviewing the movies I feel we should, as men, must watch. For this first block, I'm going to go with my favorite movie of all-time: Mario Puzo's The Godfather. Now, I'm not going to recap the entire movie here, I will be writing with the assumption that every man reading this has watched this cinematic masterpiece. With that said, let me sum it up for you.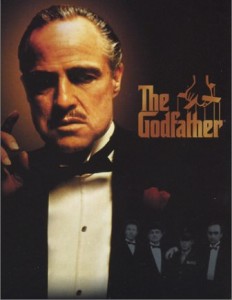 The movie is based off of Mario Puzo's book of the same name and was directed by Francis Ford Coppola. The Godfather stars Marlon Brando in the role of Don Vito Corleone, Robert Duvall as Consigliere Tom Hagen, Al Pacino as Michael Corleone, and Diane Keaton as Michael's girlfriend Kay Adams.
It spans between the years of 1945 through 1955. It centers around the Corleone crime family, opening at the wedding of Don Vito Corleone's daughter's wedding(one of my favorite scenes in the film), where we find him listening to requests for favors. One of the favors is from his grandson Johnny Fontane, who is a singer, but is trying to land a role in a war film, but was denied.
Don Corleone sends his Consigliere Tom Hagen out to California to talk to Jack Woltz, the director of the movie, who refused because he feels Johnny caused the loss of his "future star." Well, this isn't going to be the end of it for Mr. Woltz, who wakes up the next morning to find the head of his prized horse, Khartoum, in his bed. Hey, someone had to get some head in the movie! Well, lets just say that Fontane ends up getting the part.
The leadership of the Corleone family meet up with "The Turk" Virgil Sollozzo, who asks the Don to protect another crime family, the Tattaglias, and their heroine business. Don Corleone refuses the proposition, as it could jeopardize his political protection. Don Corleone sends Corleone family enforcer Luca Brasi to learn more about Sollozzo's organization, but Brasi is stabbed in the hand and garroted to death by the son of the Tattaglia family's Don.
I better cut myself off here, or I'll be giving away the whole movie, so I'm gonna wrap things up by saying that a war between the Five Families break out and people are killed and find out some people are traitors.
The music is also very well done, having been composed by Nina Rota and Carmine Coppola, as well as Gordon Willis' cinematography.
This movie teaches you everything you need to know about everything. You'll know what I mean when you watch it. So, get some friends together (and make sure you tell 'em to leave the guns and bring the cannoli) and prepare yourselves for one of the best spent 175 minutes you'll have outside of the bedroom!
Oh, and if they say they can't make it, you might wanna make 'em an offer they can't refuse!
TAGS: manly movies, movies, the godfather