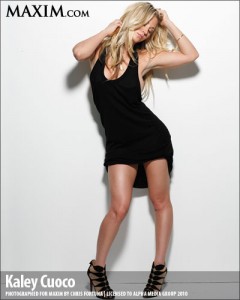 So long as you haven't been living under a rock for the past few years, you've seen CBS' late night line up. Yes I know, its hard to get past Charlie Sheen trying to choke a bitch… again, but I've done it for The Big Bang Theory. Granted, its nerdy, and about scientists, but its also about men from all walks of life joined together for one unified goal: Get the girl.
Speaking of the girl, enter Kaley Cuoco. This blond bombshell first stepped onto the sitcom scene alongside the late great John Ridder in 8 Simple Rules for Dating my Teenage Daughter. She says that one of her biggest inspirations was working with Ridder, stating that "working with John Ridder was the biggest comedic lesson of my life".
At her recent Maxim photo shoot, Cuoco talks more about the Big Bang Theory and her experiences with guys. Really though, just take a look at the pictures, we know thats why your here.
TAGS: 8 simple rules, big bang theory, Bikini, blonde, cuoco, honey, hot, hottie, john ridder, kaley, kaley cuoco, maxim photo shoot, penny, sexy, Sexy Ladies