Craig Harrison a British Army corporal of horse in the Household Cavalry killed two insurgents from an astounding distance of 8,120 feet or 1.54 miles in the Helmand Province of Afghanistan last November with an Accuracy International L11583 long-range rifle.
"The first round hit a machine-gunner in the stomach and killed him outright, the second insurgent grabbed the weapon and turned as my second shot hit him in the side. He went down, too," Harrison told the Sunday Times of London.
This set a world sharpshooting record for Harrison with the 2 shots (measured via GPS) beating the previous record held by Canadian Army Cpl. Rob Furlong, who killed an al Qaeda gunman from 7,972 feet in 2002.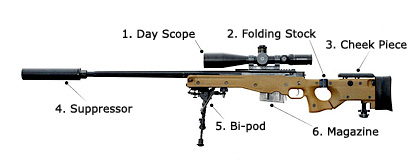 TAGS: al Qaeda, British Army, corporal, Craig Harrison, gunman, Household Cavalry, insurgent, Rob Furlong, sharpshooting, Sunday Times, weapon, world record, world sharpshooting record