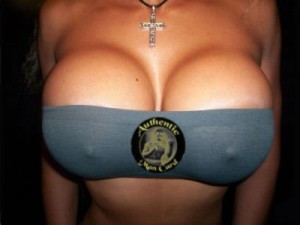 "For the love of God, shake me! Shake me like a British nanny!"
– Stewie Griffin
That is the first thing that came to mind when I saw this video. The second thing I saw was jiggling boobs and the third, a reason for everyone to get out of my office and close the door behind them as I wanted to be alone with the Internet.
Those crazy Chinese, yes I'm generalizing all 1.3 billion of them into a handful of pervy scientists here, have come up with the Top Charming Breast Stimulator, a device women can put into their bras or bikini tops that gently shakes the breasts to encourage growth. Lady's may I be the first to say that this product is not eco friendly and I will be happy to supply you with a green (Simon) alternative free of charge available 24/7. As long as my girlfriend certain people do not read this post, in which case I may be in some serious trouble or, fingers crossed, shaking my way to her next Birthday present.
If you get caught watching this remember, this is science, not 5 minutes of shaking boobs and jiggling fun bags, SCIENCE DAMN IT!
TAGS: Bigger Boobs, Bikini, boobies, boobs, Bra, Breast Stimulator, Breasts, Chinese, Cleavage, fun bags, jiggling, Ladies, Lady's, science, shaking, Top Charming, women