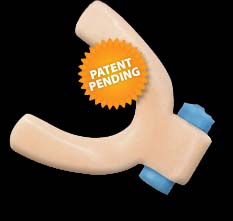 Great discovery today everyone!
Turns out, everyone thinks oral sex is to much work. Who would have such a solution to this major problem? A dentist of course! Introducing the Blowguard, "Taking the job out of Blowjob". After I picked myself up off the floor from laughing, I continued to explore the site, finding this bone-chilling testimonial from an older couple:
We are an older couple that wears dentures. We are active in the swingers lifestyle. The blowguard fits over my dentures and when I'm giving other men blowjobs, my teeth don't move.

Thank you!
There's a "Swingers Lifestyle" for Grandma and Grandpa!? If that didn't give you a new perspective on what really goes on in a nursing home, I don't know what will. Believe me, I really thought this was a joke, but apparently they're only $27.99. I think the real question is, are we actually that lazy?
Yes, apparently some of us are.
Stay Manly My Friends!
TAGS: blow job, blowguard, man card, mancard